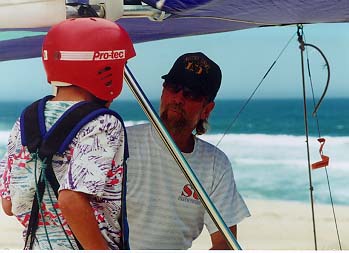 Some Frequently Asked Questions
Who teaches me?
Our certified instructors have a minimum Hang III rating as well as basic first-aid training and have completed the USHGAInstructor Certification Program. Our Assistant Instructors are working toward completion of their certification.
When are lessons offered?
Seven days a week during the spring, summer and fall, with a slightly abbreviated schedule during winter. Lessons begin at10:00 am and 2:00 pm.
What should I wear?
A shirt, long pants and tennis shoes are suggested. Helmets are supplied by Western Hang Gliders.
Is there risk involved?
Sure, just as in any active sport. The risk factor in learning to fly is comparable to that found in learning to ski or scuba dive. As in other sports, you'll get the most of of hang gliding if you're in good physical condition. Before your first lesson, you'll be asked ot sign a waiver form which explains the risks in more detail.
What about refunds?
If your class is cancelled due to adverse weather, we can give you a "wind check" and reschedule you for another time. There are no cash refunds.
About the US Hang Gliding Association
The USHGA is a self-governing body that rates pilots, instructors and schools. Membership includes monthly HangGliding magazine, rating privileges and liability insurance. Western Hang Gliders is a USHGA Certified school, your assurance of the highest qualityinstruction available.



So give us a call at (831) 384-2622, or make a reservation online.