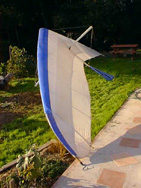 Sensor 510B for sale.
Sail is in excellent shape
(160 ft sail area).
Glider has never been crashed.
Original down tubes.
Sinkrate and glide are as good
as any king posted glider.
$800 Email Matt for more info.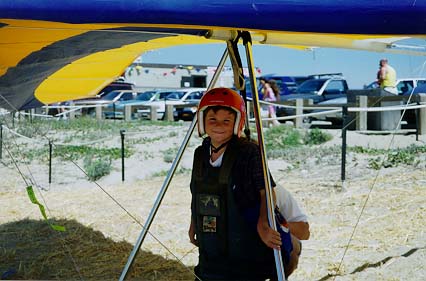 Learning to fly couldn't be more rewarding than at the West Coast's premier training site, Marina State Beach. Soft sands, gentle dunes and the predictable sea breeze add to the scenic beauty of the Monterey coastline. West Hang Gliders' pro shop and flight school is located conveniently on the site, so there is no transportation or setup to take up your valuable time and, from right outside our doors, experienced pilots can soar for hours along the cliffs and dunes, sharing the air with seabirds and other hang gliding enthusiasts.



Begin at the Beginning, see Alex's first lesson storybook or shockwave
Every student starts with the Beginning Course, perfect for both the future pilot and the curious student who just wants to try hang gliding under the watchful eyes of a qualified instructor. This inexpensive half-day lesson will start with a short film and ground school, then it's out to a gentle slope for your first flight! You'll be working closely with your instructor and will be given a minimum of five opportunities to "spread your wings." Included in the cost of the Beginning Course is a Hang Gliding Manual and use of all of the necessary equipment. A typical first day's flight will get you 5-8 feet off the ground for a glide down the beach. You'll learn the basics of the sport and can apply the cost of the lesson toward continuing packages.



Here is Tim, one of our instructors, helping a student fly in the Eaglett 190,
our beginning student glider. (top of page)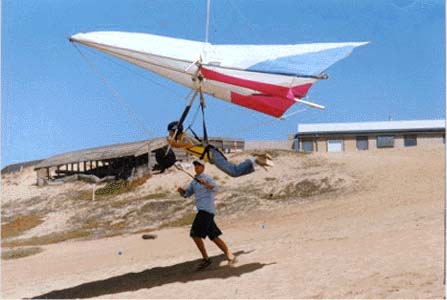 So give us a call at (831) 384-2622, or make a reservation online.